18 Feb

KIDS: Chinese Dance, Ballet, Jazz, Hip-hop & Creative Movement 儿童舞蹈:儿童中国舞,儿童芭蕾,儿童爵士,儿童街舞,儿童创意舞蹈及更多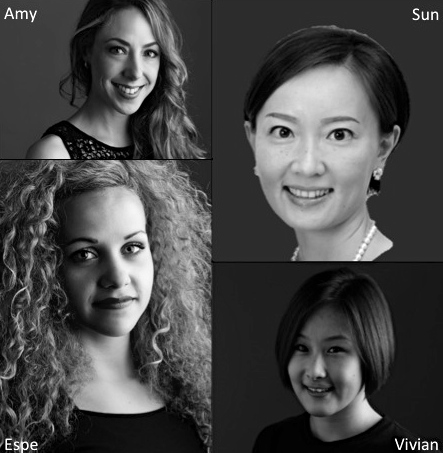 Children's Dance Classes are about to begin for Spring 2016 at Zy Dance Studio. Come and join us for classes in:
Children's Chinese Dance (4-6yrs) – Mondays 16.30-17.30
Children's Hip-hop (7-9yrs) – Mondays 17:00-17:45
Children's Creative Movement (3-4yrs) – Thursdays 16:30-17:15
Children's Ballet (5-6yrs / 7-9yrs) – Saturdays 10:00-10:45 (5-6yrs) 11:00-11:45 (7-9yrs)
Children's Jazz Dance (7-9yrs) – Saturdays 11:45-12:30
Classes are taught in English (except Chinese Dance) by our caring team of international, multi-lingual teachers who are all current or former professional dancers.
Reserve your child's place now or find out more at the Zy office or by ringing 138 1720 4098 (Chinese/English) or 131 222 76568 (English).
Chinese Dance (NEW!)
Chinese Dance is one of our most popular adult classes and we're delighted to introduce Children's Chinese Dance for the first time at Zy, through the China Dancers' Association syllabus. Miss Sun trained at the Shanghai Dance School and danced professionally with Shanghai Dance Theatre, and she has many years of experience teaching children and adults. Classes focus on fun and musicality while introducing basic technique of classical Chinese dance.
Ballet
Former professional ballet dancer Miss Amy from Australia introduces budding ballerinas to the magic of classical ballet on Saturday mornings. Amy graduated from the Australian Ballet School and was a soloist ballerina in Singapore and Germany. She now shares the beauty of ballet with her young students while instilling a solid technique, coordination, musicality and flexibility.
Jazz
Our Jazz class gets your little ones moving and grooving to fun tunes with Miss Espe from Spain. Espe trained at the Royal Conservatory of Dance Comandante Fortea in Madrid. She currently choreographs and performs across China and has several years of experience teaching children in Spain and Shanghai.
Creative Movement
Indulge your child's energy and creativity in our dance classes tailored specially for preschoolers taught by Miss Espe. Age-appropriate combinations paired with cool music allow little ones to develop a sense of rhythm and coordination while getting exercise, boosting self-confidence and making new friends.
Hip-hop
Children will learn cool dance moves to their favourite pop songs with our experienced children's hip-hop teacher Miss Vivian, who won a Best Teacher Award in the International Taoli Cup dance competition.
Please see www.zydance.com.cn for further information
Follow our latest news and updates at:
Wechat: zydancestudio
Facebook page: zydance
Instagram: zydanceshanghai
2016儿童舞蹈春季班即将在Zy舞蹈工作室展开:
儿童中国舞 (4-6岁) – 星期一 16.30-17.30
儿童街舞 (7-9岁) – 星期一 17:00-17:45
儿童创意舞蹈 (3-4岁) – 星期四 16:30-17:15
儿童芭蕾 (5-6岁/ 7-9岁) – 星期六 10:00-10:45 (5-6岁) 11:00-11:45 (7-9岁)
儿童爵士 (7-9岁) – 星期六 11:45-12:30
所有课程都是英语授课(除了中国舞以外),我们多语种的国际教师团队都是由现任或前专业舞者所组成。
现在就预约您孩子的课程,如想了解更多信息请致电Zy办公室或手机138 1720 4098(中文/英文)或131 222 76568(英文)。
儿童中国舞(新)
中国舞课是我们最受欢迎的成人班之一,现在我们很高兴的推出儿童中国舞,我们采用的是中国舞蹈家协会教学大纲。孙老师毕业于上海师范大学舞蹈系,现就职于上海歌舞团,并有多年的教学经验。儿童中国舞课程将让孩子们学习到中国舞的基本技术并以小舞蹈的形式训练孩子们的协调性和乐感,使学习更有乐趣。
儿童芭蕾
前专业芭蕾舞演员,来自澳大利亚的Amy老师将在每周六介绍给孩子们古典芭蕾的神奇。Amy毕业于澳大利亚芭蕾舞学校并在新加坡和德国的舞团任独舞演员。现在她把优雅芭蕾介绍给孩子们的同时还将让孩子们掌握扎实的技术,并提升他们的乐感、协调性和灵活性。
儿童爵士
我们的西班牙教师Espe将教孩子们如何舞动他们的身体来展现爵士舞的魅力。Espe老师毕业于皇家马德里舞蹈学院。她在中国各地编舞及演出并在西班牙和上海有着多年的教学经验。
儿童创意舞蹈
儿童创意舞蹈班专门针对学龄前儿童所设置,我们的Espe老师将充分开发您孩子的创造力。特别编排的舞蹈和音乐将让孩子们在锻炼身体的同时培养节奏感和协调性,增强他们自信心的同时还能结交更多的新朋友。
儿童街舞
您的孩子将在我们Vivian老师的带领下,在当下的流行音乐声中学会超酷的街舞动作及舞蹈片段,Vivian老师在教授少儿街舞方面有着丰富的经验,她还曾赢得全国桃李杯舞蹈大赛国际最佳教师奖。
详细信息请登录网站www.zydance.com.cn
我们的最新新闻和更新请访问:
微信:zydancestudio
Facebook:zydance
Instagram: zydanceshanghai