20 Jul

来自巴黎的老师将给大家带来芭蕾大师课 Zy Ballet Master Class With Master From Paris

叶坚曾是上海知名的舞蹈教师,并已在巴黎演出及授课超过25年。

叶坚毕业于上海舞蹈学校和北京舞蹈学院。他曾在上海舞蹈学校授课(在此期间曾担任我们的总监史仲毅的主课老师)1990年去法国深造。曾在不同的舞团出演过近百部古典舞剧与现代舞,包括英国国家芭蕾舞团、日内瓦芭蕾舞团、图卢兹芭蕾舞团。

在他结束舞台生涯后,叶坚获得了法国国家舞蹈教师证书,并成为巴黎著名的舞蹈教师。目前他任教于法国国际舞蹈学院,并带领他的学生在法国国内外多次获得奖项,他也被特别邀请担任欧洲中央电视台舞蹈比赛的主席兼评委。我们的总监史仲毅说:"叶坚无疑是我最重要和最难忘的老师之一。我很荣幸这个夏天他能来到Zy舞蹈工作室教授大师课,我希望每一位热爱芭蕾的学员都能来上他的大师课,这将有助于大家学到更多的舞蹈知识及技术技巧。"

课程时间

7月22日星期五晚上19:00-21:00-芭蕾大师课

7月23日星期六中午11:30-1:30现代芭蕾剧目

预约报名或问询请到前台,或拨打电话:54039387,13817204098

名额有限,先到先得!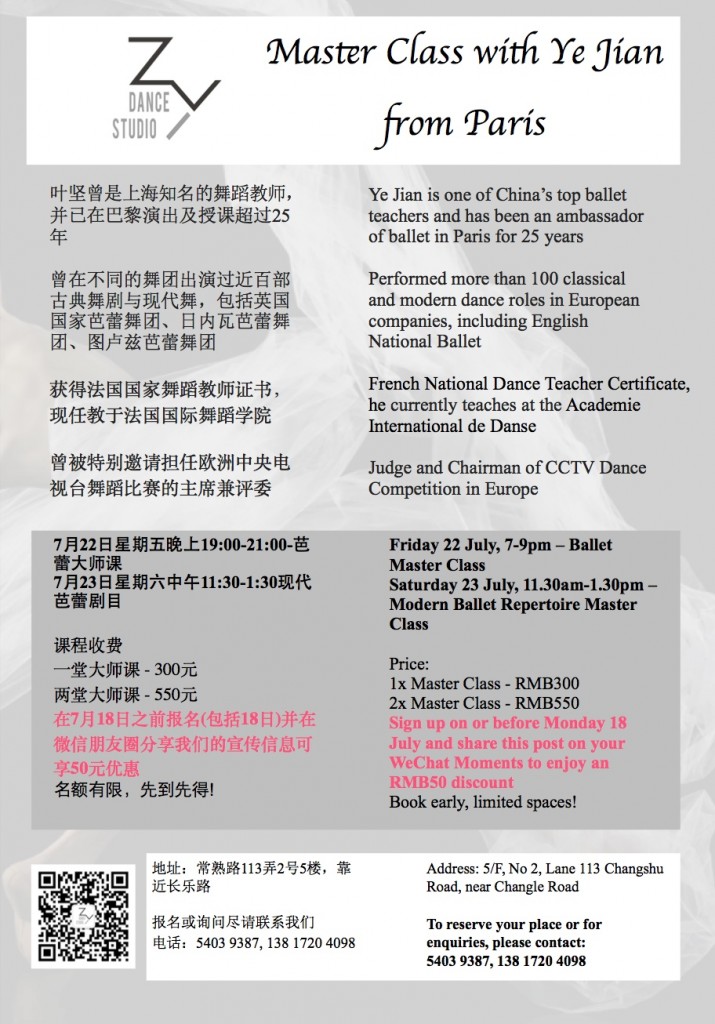 Ye Jian is one of China's foremost ballet teachers and has been an ambassador of dance in Paris for more than 25 years.
Graduated from the Shanghai Dance School and Beijing Dance Academy, Ye Jian taught at the Shanghai Dance School (during which time he taught our director Shi Zhongyi!), before relocating to Paris in 1990. He performed more than 100 classical and modern dance roles in major companies across Europe, including English National Ballet, Geneva Ballet, Normandie Ballet Theatre and Toulouse Ballet Theatre.
Following his stage career, Ye Jian gained the French National Dance Teacher Certificate and became a renowned instructor in Paris. He currently teaches at the Paris Academie International de Danse. In recognition of his status, he was invited to be a Judge and Chairman of the CCTV Dance Competition in Europe.
"Ye Jian was one of my most important and memorable teachers. I'm very honoured that he will teach master classes at Zy Dance Studio this summer and encourage everyone who enjoys extending their dance knowledge and technique to experience classes with this master teacher," says Shi Zhongyi, Director of Zy Dance Studio.
Dates:
Friday 22 July, 7-9pm – Ballet Master Class
Saturday 23 July, 11.30am-1.30pm – Modern Ballet Repertoire Master Class
To reserve your place or for enquiries, please visit the front desk or contact: (86 21) 5403 9387, 138 1720 4098. Book early, limited spaces!